"Can you really paint these?" Is a question I hear a lot when people are consider on changing out there old dated wood cabinets.  Many will be surprised to know that you can refinish most wood cabinets at a fraction of the cost of replacing them with new ones.
These were once dull dark maple cabinets that we re-finished in highly durable in the color "cloud white" from Benjamin Moore.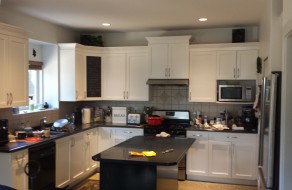 Even if you replace the counter tops, kitchen floor, back splash, wall color and cabinet hardware, the finish of your cabinets is the main ingredient to making it look modern and complete.
If you would like to know about our cabinet refinishing process please visit –>

HERE
One concern many customers have is that they don't want there cabinets to look painted with roller marks and brush strokes.  What they want is for them to look like they were originally made that way in the factor warehouse.  Good news is that our process will produce cabinets that come out looking like they weren't painted but dipped in paint with a highly durable and professional finish.